Live well, age well
Here at Croydon Vision, we cater for the over 65's.  This is our largest age group, due to age related eye conditions. We have devised a number of activities, events and services to encourage independence and create a vibrant, social community.
Our activities are specifically designed to encourage a healthier lifestyle.
Previous activities included: 
Art, Craft and Pottery to help with creativity.  

Keep fit (seated) to help with muscles and joints.  

Dance which is a fun interactive session.  

Short mat bowls – which is a great opportunity to bring out your competitive side. 

We have numerous social groups which include mental aerobics, puzzles and cross words. 

Summer sessions: we take excursions to places such as Hastings, Bognor Regis and river cruises along the Thames.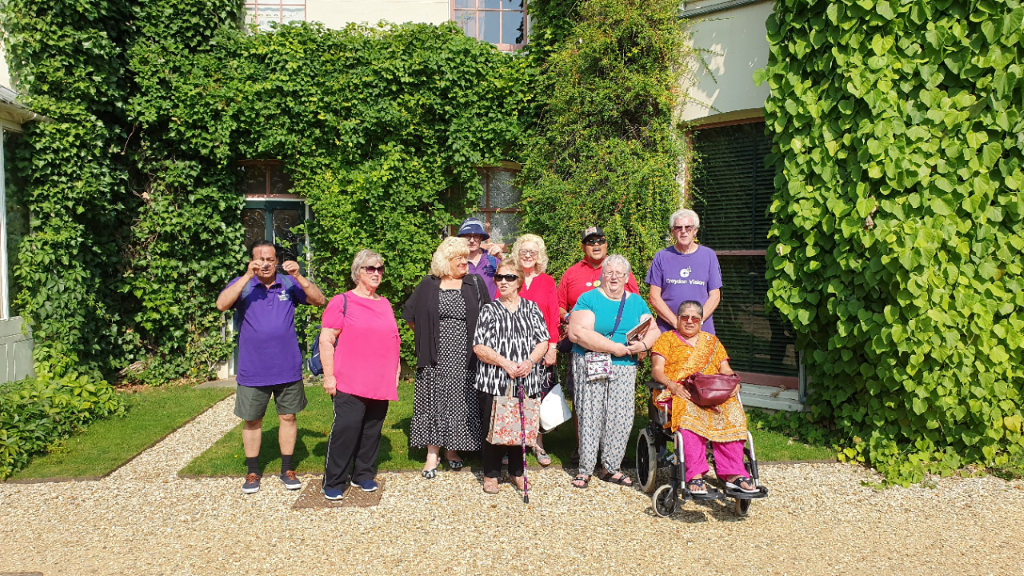 Computer Training and New Technology
Encouraging innovation
We provide tuition in anything from a smart (or not so smart) phone to computers which could transform someone's life.  
Smartphones, tablets, computers and bespoke software packages can be used by blind and partially sighted people to send emails, search the web, chat to people around the world and have all this read to them.
There are many built-in accessibility features on computers and smartphones, as well as some small changes that can be made to make things easier to read.
Through their smartphones, members are finding they can navigate and even have handwriting read out to them.
Many people have found their world reopening as they delve into the opportunities technology can give them, even though they may never have used any technology before.
Healthy Living

 
Keep Fit

 

 
Thursday morning
10.00am – 12pm    
The exercises are all done whilst sitting in a chair working all major muscles and joints to keep them lubricated and moving.  There is music in the background to keep a regular pace as we strengthen and extend legs and arms and contract our abdominal and upper body muscles.   After a short break for tea or coffee we return to do some gentle muscular strength and endurance work on our hands and arms using soft sponge balls.  We also incorporate some gentle stretching exercises so everyone goes off for lunch feeling refreshed and eager to continue their day.  
Dance 
Wednesday morning
11:00am – 12:30pm

In our Dance Class, held on every Wednesday morning,  we practice on CD music the following dances:-  
Cindy Swing, Yearning Saunter, Barn Dance, Viennese Swing,  Square Tango, Sweet Heart Waltz, and Bossa Nova.  We pair new beginners/learners with an experienced one  to make it easy to pick up steps in rhythm and tempo beats.  Members take special care to look after participants who are  physically and visually less capable.  Some members have been active dancers for more than  twenty years and prove to be extremely beneficial imparting of  their knowledge to enthusiastic new members of our Croydon  Vision.  
Our Dance Group is like a family. We celebrate birthdays,  care for any sick or unwell member, have a tea break with important  news from the office and book lunch menu. 
Information, Advice and Advocacy
First point of contact
The Information, advice and Advocacy service is for all membership inquiries.  This service allows anyone with sight loss or affected by sight loss to ask questions; including coming to terms with sight loss. The service works closely with Croydon Sensory Impairment team, Voluntary organisations, Moorfields (ECLO), local GP's and optometrists. 
The Information and Advice service provides information and one to one support in completing application forms. The officer regularly visits members within Bedford Hall and New Addington to assess needs/follow up. 
Service Provision: 
Information on Croydon Vision and services provided. 

Benefits information such as Personal Independent Payment (PIP), Universal Credits. 

Housing information. 

Transport services such as taxi card, Dial a Ride. 

Information for external stakeholders. 

Social and Health Care; Housing. 

Local services and support as well as advocacy. 
Advocacy is taking action to help you to:
Have your voice heard on issues that are important to you. 

Safeguard your rights. 

Have your views and wishes considered when decisions are being made about your life. 

Express your views and concerns. 

Access independent information and services. 
Advocacy is not legal advice. We do not influence your decision and cannot guarantee outcomes.
Low Vision Clinic
Croydon Vision provides a Low Vision Clinic, offering advice on magnifiers and lenses. 
At Croydon Vision, once members are assessed, they are able to try out different products and recommended a best fit. This helps to make daily tasks that can become difficult due to reduced vision much easier. Our Optometrist  – Fiona Hazell – runs the clinic on Thursday mornings, once a month.
We also have a weekly clinic managed by Moorfields eye hospital from our Low Vision room on Wednesday's. Referrals for this can be made directly through your GP or Moorfield's hospital itself. 
Lunch Service
"Eat, Live and Age well"
We are a Food Standard Agency 5 star approved organisation.
Our chef provides nutritious meals which are freshly cooked for Monday to Thursday services each week. We take into consideration members dietary requirements and do our utmost best to provide a 2-course meal (mains and dessert).
To promote inclusivity, we now provide a range of options including meat, vegetarian and pescatarian dishes.
Lunch isn't just a hot, healthy meal for our members; it provides the opportunity to make or meet with friends and take a break in safe environment.
Take Away Service:
We also provide the option to order your meals to collect and take away.  These packages will be the same freshly prepared meals, which you can pop in the microwave at home.
Outreach
What is outreach?
Outreach is a service provided for all members who are unable to attend activities at Croydon Vision and may be in need of short or long term home support. We focus on encouraging and enabling our members.
Outreach has two main forms:
Home Visits from an Outreach Officer.

Phone Befriending with a volunteer.
About Home Visits
With your permission, an Outreach Officer will visit you in your own home. The officer's role is simply to see what your needs are. If those needs are relatively specific, another member of staff may also visit to provide more specialised assistance example; tech training.
What types of help can be provided?
Community engagement assistance

Regular home visits as required

Information and advice

IT training and support

Referral to the Eye Clinic Liaison Officer (ECLO)

Referrals to the Sensory Impairment Team for rehab

Assistance in attending doctors appointments

Support in going out and about (separate to mobility training)

Support with daily living aids
Interested in home visits?
To access this service please either contact the office at Croydon Vision or download a copy of our outreach referral form and send it to us.
About Phone Befriending
Phone Befriending simply means a volunteer or staff calling you directly (with your permission) on a monthly basis to see how things are going. As well as seeing how you are, they'll also find out whether you require any help with anything.
We also operate a Keeping in Touch register, whereby we'll contact members, especially if we've not heard from them in a while, to check on their wellbeing. The chat will simply be to establish whether we can assist them with anything and whether they wish to stay on the register.
Any Croydon Vision member can request to be added to our Keeping in Touch register, simply by contacting the office here or by calling 0208 688 2486.
Talking Newspaper
Keeping you in the loop
Each quarter our wonderful volunteers take to the mic and record segments that come together to form Croydon Vision's talking news. This service is designed to keep our members informed with the local Croydon news and to provide them with entertainment they can listen to. The Talking News is a fully accessible service that we can use to reach members at their home in the form of an mp3 stick.  
The first section of the Talking News is all about Croydon's local news keeping listeners up to date with the Croydon borough. The next section is called the talking magazine, which is hosted by a different regular volunteer each week who covers a variety of topics that would interest our members. Each month our newsletter is read out as a substitute for the talking magazine to make sure that for those who have difficulties reading paper format can be fully updated with all of Croydon Visions events and news. 
This service is £20 for an annual subscription. We will mail your USB in a bright yellow package, once you have listened to the talking news for the week simply place the USB stick back into the yellow package and post back to Croydon Vision, free of charge, where we can then swap your memory stick for the latest copy. 
To sign up to the Talking News and to find out more about this service please call reception on 020 8688 2486 or email info@CroydonVision.org.uk 
Transportation
Door to door service
We provide transport for our members Monday to Thursday each week via minibus. 
We cover most areas of the borough of Croydon and driver will contact regular members 24 hours prior to confirm pick up. 
We also provide transport for events and excursions when required. 
Our transport fees are set at a reasonable price – please query at reception on 020 8688 2486.