Croydon Vision is indebted to a strong team of dedicated volunteers who work alongside permanent staff in supporting its members. We are extremely grateful to all those who willingly commit a couple of hours, half a day or a day or two a week to assist with our varied services and activities which together forms a big Croydon Vision family. 
Whether or not you are volunteering to gain skills and experience or simply to offer your free time, Croydon Vision will have something for you.  We welcome all applicants including those who have a visual impairment themselves and we will match them to appropriate roles. 
During this time,  Croydon Vision's amazing volunteers continue to assist our members with our adapted services from befriending to hosting groups live through the use of technology.
Volunteering Vacancies
Croydon Vision is an equal opportunity employer and focuses on adding value, making sure that volunteering is mutually enjoyed and a movement to empower. 
If you are looking to help and volunteer during this pandemic we would love to hear from you.  We are currently recruiting volunteers to support our adapted services; doorstep, home visit or virtual. For further information, please email volunteering@croydonvision.org.uk. 
We will respond to your interest within 7 working days. 

 Thank you for your time and we look forward to your response. 
Administration
Assisting with administrative tasks such as operating the reception desk during working hours, responding to members' queries and delivering excellent service. Supporting with quality assurance through quarterly surveys and impact sharing and other administrative tasks.
Board of Trustees
Serving as a member of the board, to help Croydon Vision thrive as an operation and strategically – outward in approach.
Catering and Hospitality
To assist the Cook in the kitchen as well as members; making sure that excellent lunch service is provided.
Community Engagement
To continue increasing an awareness of Croydon Vision, reaching many more people with sight loss.
Creative Activities
To assist with the smooth running of social groups either by leading the group or becoming a group assistant; supporting members.
Classes include Craft, Art, Pottery and Bowls.
Fundraising
To support Croydon Vision in reaching its fundraising initiatives and targets by assisting at fundraising events, with fundraising campaigns and fundraising bids.
Health and Well Being
To assist with the smooth running of the class such as: Keep Fit, Dance, Yoga. In addition, to support with scheduled walks in the park/other. For example: Snowdon Challenge (Snowdonia)
Marketing, PR and Communication
To help build the communal awareness of Croydon Vision and its services.  In addition, creation of videos, social media usage; thereby demonstrating impact to the wider community 
Outreach and Befriending
To assist with our outreach and keeping in touch programmes to provide companionship and support to our members who are unable to access Bedford Hall, reducing social isolation within the sight loss community.
Resource Centre (Technology)
Provide guidance and assistance to members, particularly with regard to electronic goods.
Social Groups
Lead or assist the group and members, for instance, organising weekly programme, refreshments, register and so on.
Transport
To assist in the transportation of members to and from Croydon Vision in order to enable members to participate in our services and activities.
Please note, an enhanced Disclosure Barring Service (DBS) and reference check will be obtained for successful candidate.
 If you are interested in volunteering with us and would like to find out more about the available roles, please email an application form to volunteering@CroydonVision.org.uk, we will respond to your interest within 7 working days. 
 We look forward to receiving your application!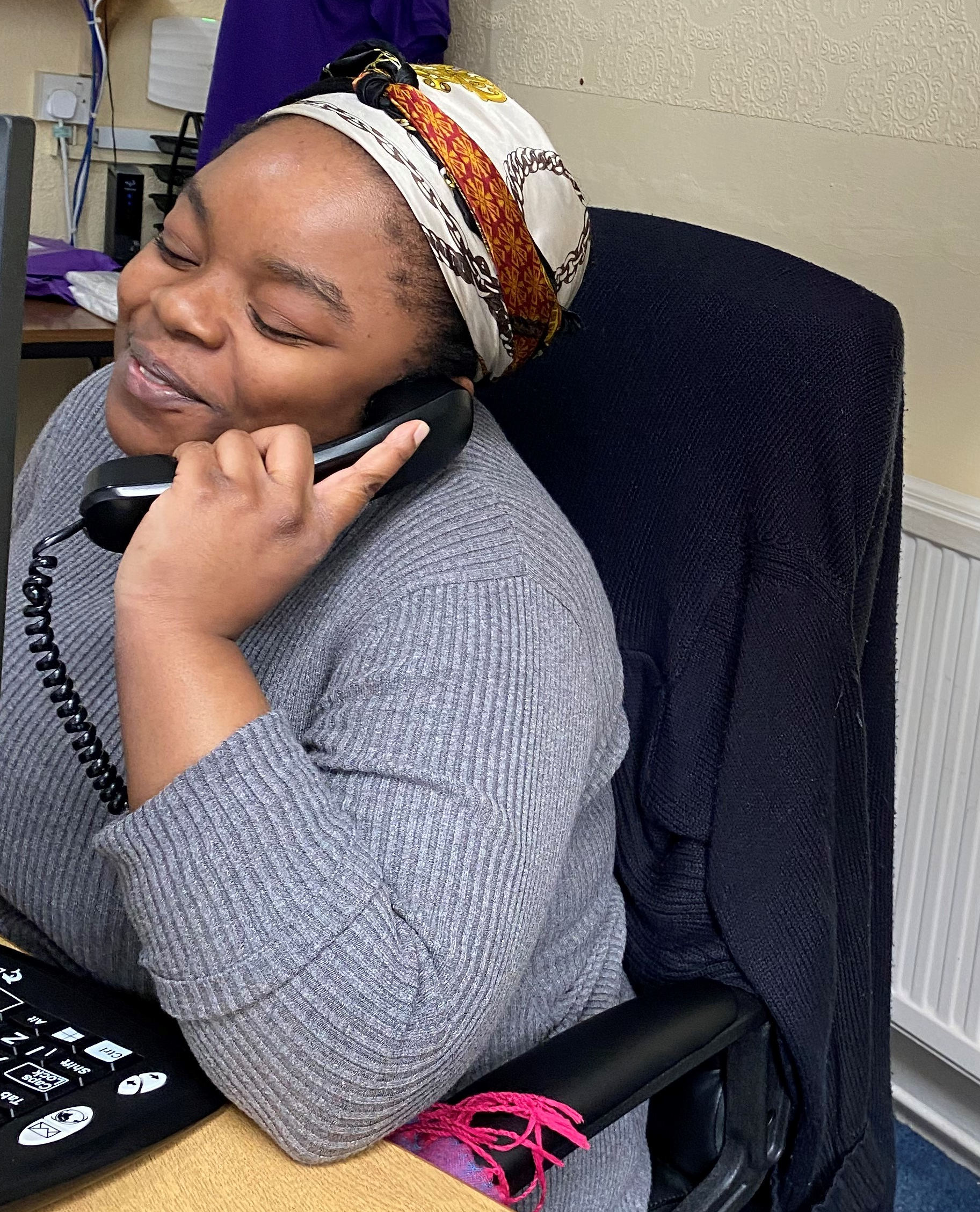 Everything we do at CV focuses on transforming lives, the journey to independence. So, it is only befitting to put the spotlight on Natalie, she is officially our Engagement Officer, starting this month.We sat down with Natalie for a quick rewind of her journey and...