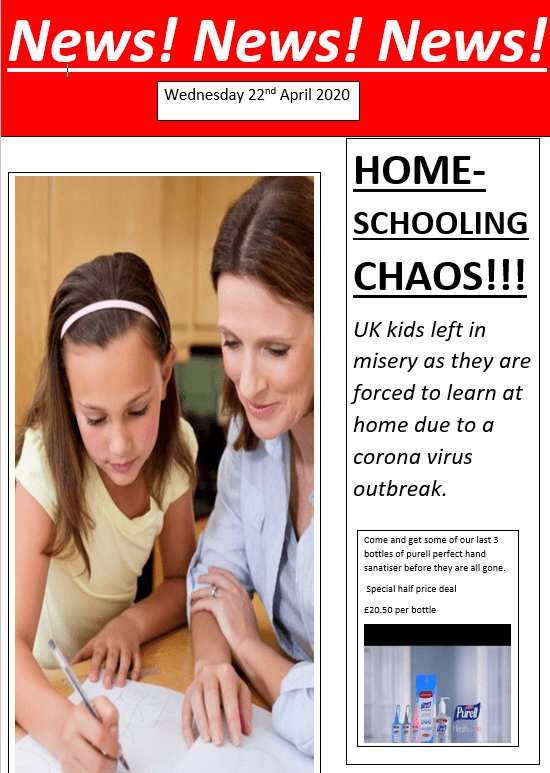 HOME-SCHOOLING CHAOS!!!
UK kids left in misery as they are forced to learn at home due to a corona virus outbreak.
Isolation Desperation
Parents and children everywhere have been left feeling desperately in need of help after unexpectedly being forced to home school due to the global corona virus outbreak. This awful virus is affecting the lives of people around the world. Because of the spread of corona virus all the schools have had to close. This means parents are having to home school and teach their children at home.  Some people are enjoying this challenge but others are finding it a nightmare. Mrs Smith from London said: ''I have 5 children and I am finding it extremely hard to keep on track with all of their work.''        Many other parents are having the same difficulties but schools have advised that parents do the best they can in helping their child with their work. A lot of children are enjoying the more relaxed atmosphere of working at home. 7 year old Jack from Birmingham said ''I love home schooling because I can sit at home in my pyjamas all day but I really miss my friends''. Everywhere problems have occurred, like having to be able to use a computer and have internet access.  Also teachers are not there so children are having to learn independently.    
Claire age 10 has written a poem to enlighten our spirits during these times:                                                     
Poem- 
Safety is best found at home       
Try your best 
Avoid going out      
You can help save lives
Hand washing is vital
Our country needs your help
Make sure you follow social distancing
Everything will get better soon     
Teachers top tips for home schooling
We have worked with some of the best teachers in the country and come up with these 6 tips to help you survive home schooling!
Read with your child every day. This will help improve your child's reading and spelling skills. Also, by asking your child questions about what they have read it is improving their comprehension skills.
Set a learning routine to balance out the work so they are not overwhelmed.
Have regular breaks and go outside to refresh.
Use online activities to keep your children's minds active.
Make learning fun by combining it with games or toys they enjoy.
Don't rush them. Allow your child to work at their own pace.
Here are a few ideas of how to make learning fun.
Maths – You can play shops. Pricing items and using money can teach them about money value and will use their maths skills.
English – Set up some of your child's teddies in a scene and get them to write a story about what is happening. This will encourage their creative skills and use imagination.
Science – Explore your garden on a quest for bugs!! This is a good outside activity that will broaden their investigation skills.
We are all struggling through this new home schooling challenge together. Just remember this is not forever so do what you can and make the best of it. Normal schools will return one day soon.
                Stay safe. Stay home. Stay positive.