A New Drive to Make Croydon a Centre of Excellence for Visually Impaired People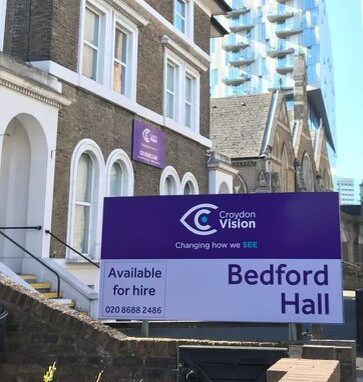 As Croydon's shops, restaurants and businesses reopen, Croydon Vision – Croydon's Premier Sight-Loss Charity – is working hard to improve accessibility for visually impaired people in the community.
And the clock is ticking. "There's never been a better time or place to do this – and we need to act fast." urged Odette Battarel, Croydon Vision's Community Dynamo. Croydon's current population stands at 384,837 – with 9,420 people currently living with some degree of sight loss – and is estimated to increase by 14% by 2031.
Nobody left behind.
"Our local ethnic diversity means that the prevalence of certain eye conditions such as glaucoma and diabetic retinopathy are disproportionately high." Odette explains, "Quite simply we cannot afford to leave these people behind as the world reopens."
Many visually impaired people have been isolating since the onset of Covid-19 and are excited as well as apprehensive at the thought of rejoining the outside world after over a year. "It's so good to not be sitting alone in an armchair watching telly!" Croydon Vision member Bob Horne celebrated as Croydon Vision's Bedford Hall reopened.
But is the rest of Croydon quite so welcoming to people like Bob? Croydon Vision are currently spearheading a movement to make Croydon a Centre of Excellence for the Visually Impaired. The movement will incorporate recognising and celebrating V.I. Friendly Businesses in our area with awards and inclusion on a V.I. Friendly Business Directory.
How V.I. Friendly is your business?
Work is already underway to improve things as businesses and organizations sign up for Croydon Vision's Visual Impairment Awareness Training. These practical, down-to-earth workshops are led by visually impaired members of the Croydon Vision team and are designed to ensure everyone in our community – from dentists to nail technicians, librarians to receptionists – are comfortable and confident interacting with blind and visually impaired customers.
Odette, who herself is visually impaired and runs some of the workshops enthuses "It's all too easy to feel awkward or potentially patronizing around visually impaired people, so I tend to kick off by asking what questions people have always wanted to ask a blind person but have felt too uncomfortable to do so. People usually ask whether our other senses are enhanced, how we choose outfits and even how we meet people romantically without being able to make eye contact in a bar!" she laughs, "Living with visual impairment isn't always easy but that doesn't mean we can't have fun."
Five quick wins.
So, if you own or work for a local business and you're keen to ensure visually impaired customers feel welcome and comfortable, what can you do? Odette, shares her top 5 tips to get you started:
Never attempt to help a visually impaired person by simply grabbing their arm. Even though you have the best intensions it can be pretty alarming for someone without sight.

Always introduce yourself by name when talking with a visually impaired person, without the ability to acknowledge or connect through eye contact, this is the best substitute.

Visual impairment can be a hidden disability so they might not have a cane or a dog. There are a whole range of different visual impairments so don't be afraid to ask what help they need, just as you would with any other customer.

When interacting with someone who has a guide dog make sure you're addressing the person and not the dog when you speak to them – it's amazing how often that happens!

Pay attention to whether your shop or space is trip-free, the blind and visually impaired community is incredibly close-knit so word gets around about which places cater to blind people and which aren't welcoming.
Finally, enrol in Visual Impairment Awareness Training to take your accessibility to the next level and together we'll make Croydon a shining example of what a VI-friendly community really looks like.
Would your team benefit from a Visual Impairment Awareness Workshop?
Email info@croydonvision.org.uk or call  020 8688 2486
You can support the work Croydon Vision are doing by visiting www.justgiving.com/fundraising/croydon-vision
What is Croydon Vision?   
We're Croydon's premier sight-loss charity, and we're busy transforming lives and encouraging people to re-evaluate what's possible when you're blind or partially sighted in our community. There are three main arms to our work; practical support (covering everything from keep fit to tech training), spreading awareness and improving services.
Croydon's current population stands at 384,837 and is estimated to increase by 14% by 2031. Over 51% of this community identify as Black, Asian or Minority Ethnic (BAME). Our local ethnic diversity, means that the prevalence of certain eye conditions such as glaucoma and diabetic retinopathy are disproportionately high. The numbers suggest there are at least 9,420 people currently living with some degree of sight loss in our area, with a further 1,210 Croydon people diagnosed with severe sight loss.  
There's a lot of work to be done, and after the year we've all had everyone needs all the help they can get. As such we're keen to build meaningful, mutually beneficial partnerships with local businesses and organisations like yours to make things better for everyone. 
"A life saver & a life change"