The 6th of October was not an ordinary day for Croydon Vision, its friends and allies. For the team, both staff and volunteers, there was a lot to do throughout the day. Nothing left to chance; hence meticulous planning and scrupulous execution of plans. The team worked round the clock to make sure our esteemed guests had the best possible Gala Dinner experience.
As our beautifully dressed up guests started to arrive, everything was in order. The welcome team composed of exceptional volunteers Bharat, Hager and of course our tech Guru Daniel were by the entrance to extend that warm and friendly welcome. The guests were then accorded a Red-Carpet welcome and prosecco or juice of their choices and escorted to their respective seats by remarkable volunteers, Janet and Dharmendra. Once our guests were in the magnificent and beautifully decorated hall, there was time for networking and enjoying classical music organised by DJ Ian. Great buzz of excitement.
Around 6:30pm, we had uplifting moment as musician Joe Garvey took the stage with his guitar to kick off the Gala Dinner.
Once Joe finished his first gig, it was time for Susanette Mansour, Chief Executive of Croydon Vision, to formally open the Gala Dinner and extend warn and friendly welcome. Susanette, known for having bold vision and courage to pursue that vision, didn't take that long to brighten up the event and extend much deserved thanks to all who joined the event; to those who supported the event and those who worked tirelessly to see that historic moment. She also introduced the theme for the evening – Strong Past, Focused Present and Ambitious Future.
It was thus time for the Masters of Ceremony, composed of Jennifer Smith and Kieren Exley, to take the stage and lead it with humour and professionalism. They both shared their personal stories and of course their connections with Croydon Vision before inviting a line-up of speakers.
The first speaker was 88 years old, Mary Reddick. Mary was gracious in her speech. She thanked Croydon Vision for the great experience she has had over years. Mary said, "I am still at Croydon Vision today partaking in different activities including keep fit, sequence dancing, taking part in regular excursions; all of which has eradicated the feeling of 'loneliness' when you think you are losing one of your senses. One thing is for sure, at Croydon Vision, you are never alone." Mary's story and the video after her story had a lot about the Strong Past of Croydon Vision. Once Mary finished her heart-warming story, it was time for dinner, 3 course meal and a number of activities in between.
It was thus time for the second part of the event, our Focused Present. It was Shalini O'Kane's time to share her stories and inspire us. She was all about being self and confident. Shalini said, "Everything I do at Croydon Vision makes me even more confident as I also want to share my learning. All I can say is simple. If you are visually impaired, don't let your sight loss get in your way. Be Yourself." 
Shalini's speech was followed by a series of activities including quiz entitled 'the genius table', which was followed by the third part of the event – our Ambitious Future.
The Ambitious Future part of the event had an exceptional young boy to kick it off. It was hence time for 11 years old Jesse Sopade to take the stage. Jesse's sense of humour, inspirational stories and aspirations put the hall to standstill. Jesse shared his experience in life and his hopes for the future of Croydon Vision in particular and blind and visually impaired people in general. Jesse said, "I face many challenges, but I am able to overcome them. Whenever I am at Croydon Vision, I feel included and listened to. I have learnt a lot including cooking." Jesse further mentioned that he wanted to be a tech person when he grows up. Lots of aspirations from the young boy. Jesse is indeed the future.
Once the speakers shared their unique and exceptional experiences of life in general and Croydon Vision in particular, it was time for the Mayor of Croydon, Jason Perry, to be on stage to react to the stories and deliver his message. The Croydon Mayor reflected on the speech of Jesse and extended his best wishes to the young boy. He also reflected on the long history of Croydon Vision and its place in Croydon. The mayor promised to work closely with Croydon Vision to see phase 3 of Croydon Vision in place.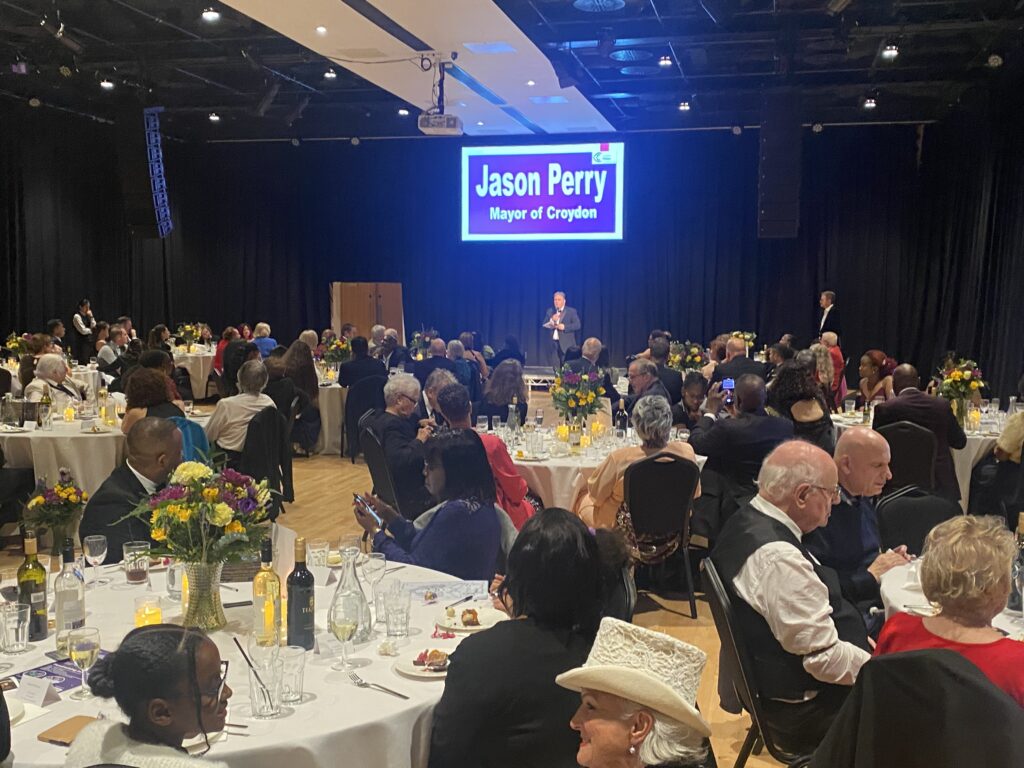 Following the mayor, it was time for Susanette Mansour to return to the stage. This was her time to thank all those who have been supporting Croydon Vision over a long time. It was also time to share her hopes to see a better, well organised and self-sufficient Croydon Vision. It was also time for her to call for action. Susanette said, "We need to act now to increase awareness and understanding of sight loss within our community and the part that everyone plays to assist and support our community… We want to encourage cross-sector collaboration. Building on our culture of give back, doing for one what you could do for many"
As the event was underway, many had chance to be by the photo booth to have their historic photos and of course the chance to be drawn by Helen Pointer, a prominent caricature artist.
It was thus time for dance, more fun and razzmatazz.